Laser Mining for the 21st Century;

The light at the end of the Tunnel!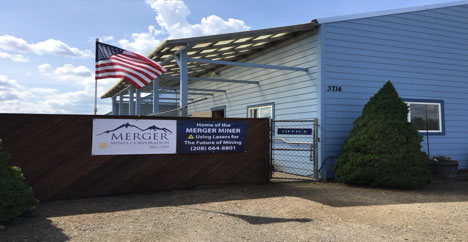 MERGER MINES CORPORATION
Innovative Technology, Creative Thinking and Vision for the

21st

Century
Merger is the global leader in the development and use of lasers for mining. This innovative use of lasers and robotics has the potential to change the way mining is done world-wide. Merger's innovative mining methods will lower mining costs significantly, and reduce miners' exposure to dangerous situations they typically encounter when using explosives and traditional mining equipment.
Aside from mining ventures, the Merger Laser Miner could find uses in the Construction Industry such as by-pass tunneling in the construction of dams, highway tunnels or the splitting of large rocks in landslide situations where timely clearing of highways is essential. Another proposed use would be clearing access to trapped areas in the event of natural disasters such as earthquakes or mine cave-ins or spelunking miss-adventures.
Merger has world class technical experts to oversee the design and manufacture of the robotic laser vein miner arrays, and Merger has one of the finest mining engineers in the U.S. to assist the Laser Vein Miner design team with his mine design and operational expertise. They will be working closely at any mining location where Merger is testing and fine tuning the laser arrays, and they will be available to assist mining companies that purchase or lease the mining arrays from the company.
MEET MERGER'S TECHNICAL STAFF AND CONSULTANTS
Gary Mladjan,
Opto-Mechanical Engineer, Vice President of Engineering and Technology, Director
Mr. Mladjan, has over sixty years of opto-mechanical engineering experience with various defense contractors, most recently with Raytheon Corporation. Mr. Mladjan was a team member in the development of a number of electro-optical night vision and laser devices and is the primary holder of 7 U.S. Patents, a number of International Patents for those devices as well as a Canadian patent and eleven other disclosures. He was the lead engineer in the advanced conceptual design, engineering costing, product design and manufacturing on many projects at Raytheon, Hughes Aircraft, Northrop Electronics Div. and Aerojet ElectroSystems. He was a designated Raytheon corporate expert for Investment Casting and for Single Point Diamond Machining as well as a developer in the use of exotic materials and technologies for defense products. Mr. Mladjan has authored several published papers on New and Innovative Technology and Detail Design in Exotic Materials. Served in the U.S. Army, Corps of Engineers.
Gabriel Achenbach,
Consulting Computer Aided Engineering (CAE) Engineer
Mr. Achenbach has 15 years of experience in concept design and production development with extensive experience in precision manufacturing and design of electro-mechanical equipment and from the testing of production systems to large scale mining equipment. He holds a B.S. degree in Mechanical Engineering Technology from Eastern Washington University.
Jason Bishop,
Consulting Computer Aided Engineering (CAE) Engineer
Mr. Bishop has over 15 years of varied experience as a Computer Numerical Controlled (CNC) machine operator, manufacturing engineer specializing in process development, and as a Systems Engineer. Recently he has been involved as a Project Manager in Rapid Prototyping and embedded systems architecture at the Boeing Company. He holds an A.S. in Machine Shop Technology from Spokane Community College and a B.S. in Mechanical Engineering Technology, with a physics minor from Eastern Washington University.
Don R. Rolfe,
Mining Engineer, Vice President, Director
Mr. Rolfe is a mine engineer with over fifty years of mining industry experience. His career has included positions of Senior Mine Engineer, Chief Mine Engineer, Mine Foreman, Mine Superintendent and Mine Manager with several leading U.S. companies including Anaconda, Hecla, Union Carbide and Homestake. Rolfe has extensive knowledge of the mine planning and development process along with expertise related to the mining of various minerals including gold, silver, uranium, tungsten, phosphate, and bentonite clay. He holds B.S. degree in Mining Engineering from Montana School of Mines.
Dan Nieuwsma,
Consulting Laser Physicist
Mr. Nieuwsma has over 36 years of experience leading laser system concept, research, and product design for rugged environments and production implementation. Dan was presented with Raytheon's corporate "Excellence in Technology" award in 2001 for the design of the first Military Qualified diodepumped laser and a second award in 2007 for leading a Team for the development of an Erbium Fiber Laser. He retired from Raytheon in 2014 as Chief Laser Physicist. Mr. Nieuwsma is currently a Consultant at Satellite Consulting Inc.
Patrick McNenny,
Consulting Optical Engineer
Mr. McNenny received his B.S. in Optical Engineering from the Institute of Optics, University of Rochester in. In addition to managing consulting projects and writing proposals, he performs optical system designs and analyses. His strengths include project management, lens design, and system modeling. With over 30 years of experience, he has designed and analyzed optical systems in the aerospace (TRW), commercial imaging (ECRM Imaging Systems), and medical device (Baxter Healthcare, Applied Medical) industries. 1983. Since 2009 he has been Vice President for Engineering Services at Photon Engineering.
Ed Fagg,
Consulting Integration and Test Engineer
Mr. Fagg has over 35 years of experience in the fabrication, assembly and test of electro-optical and electro-mechanical instruments with Raytheon Corporation and its predecessors. He currently is the Engineering Section Manager for the "Opto-Mechanical Product development Section" and directs technical staff members that provide engineering support for both Manufacturing and Developmental Programs.
Dr. John McCloy,
Consulting Mechanical and Materials Engineer
McCloy holds a BS (MSE) from the Massachusetts Institute of Technology, and MS (MSE), MA (Anthropology), and PhD (MSE) degrees from the University of Arizona. From 2008-2013 he was with the Pacific Northwest National Laboratory, where he retains a joint appointment as Chief Scientist. From 2000-2008 he held various engineering roles with Raytheon in Tucson, Arizona. Prof. McCloy is an author on >150 technical publications, including 93 journal articles, 1 book, and 3 patents. He was an invited delegate to two National Academy of Engineering, Frontiers of Engineering meetings, in the US and in Germany. He is an American Ceramic Society Fellow and recipient of the Richard M. Fulrath award in 2018. He is currently a Professor in the School of Mechanical Materials Engineering at Washington State University, in Pullman, Washington, and Director for the Materials Science & Engineering (MSE) PhD program. He is also a Visiting Professor of Nuclear Materials at the University of Sheffield, UK.
Nathan Hunt,
Mining Engineer
Mr. Hunt is currently a Co-Owner of Groundhog Mining & Milling Co., LLC. Mr. Hunt's life-long interest and participation in everything associated with mining was inspired by his family's extensive historical involvement in mining. Mr. Hunt obtained a B.S in Mining Engineering from Montana Tech and, with his father, established Groundhog Mining & Milling Co., LLC in order to develop the family mineral properties and provide an array of professional and physical contract services to the mining industry and civil construction industry. In addition to in-depth experience in the technical and engineering part of mining gained by working for various mining companies as an engineer, Mr. Hunt has also performed the physical tasks required to accomplish the processes of underground and surface mining. He has conducted and supervised mining and drilling operations and is familiar with the many various types of equipment and techniques employed to accomplish these operations.
Laser mining – the light at the end of the tunnel? Featured on Mining.com.